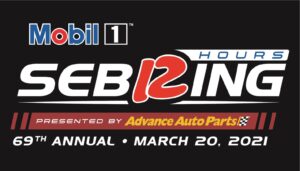 It is time for the Craton Inc team to head to Sebring Florida for the 2021 12 Hours of Sebring, the official name of the race with sponsors is "69th Mobil 1 Twelve Hours of Sebring Presented by Advance Auto Parts".
My job is to help run the Sebring PX and Team IMSA merchandise store during race week. As with any great venture the prep work before the event is extensive.  This will be my first return trip to a track in my short but wild career with Craton Inc and all its partners. We were in Sebring for the rescheduled (due to covid-19) race back in November 2020, but I expect this one is going to be a lot bigger. I's crazy to think back and remember that last March was the beginning of the COVID-19 racing year.
I am spending my time looking forward and getting ready to head to Sebring. We have our merchandise ready to be loaded and hauled to the White Tent store by the entertainment circle at the track. Our team will be loading, hauling, driving, unpacking, setting up, and presenting a ton of new stuff for your viewing pleasure this year.
Our team has produced all new gear for the 69th Mobil 1 Twelve Hours of Sebring presented by Advanced Auto Parts, and they even have a new version of last years most popular item, the Sebring Hawaiian Shirt, aka the Camp Shirt.
Some things are remaining the same this year, like the traditional and quickly becoming iconic, IMSA red drinking cup which is free with every $50 purchase at the Official Merchandise White Tent Store.
I hope to see you all there, you can find me in the tent or out in front of it with my megaphone telling some (really) bad jokes and newbie experiences from the past year. You can even win prizes if you answer some trivia questions.
See You at The Races
Tony B