Mid Ohio
Tony B's Experience
Tony B's Experience at the 2023 Honda Indy 200 at Mid-Ohio
Craton Promotions Breaks Sales Records, It's Not Going To Rain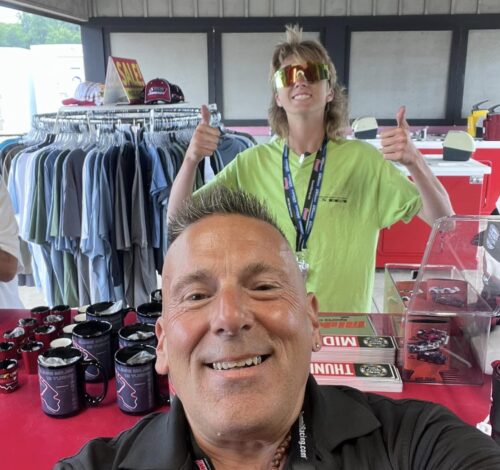 Lexington, OH – Craton Promotions – What a great season this has been for me, and for Craton Promotions, the fans have been out at the tracks in droves and the fun factor is 25% higher than last year's events. The 2023 Honda Indy 200 at the Mid-Ohio sports car course in Lexington, Ohio was my first time back to the Mid-Ohio track since last season. The Craton Promotions crew had already done two races in Ohio while I was off in other locations on the B-Team, (in this instance, the B-Team is a good thing)
We had Zack, Kaylynn, Calley, Alan, and Charles Craton, the company founder, on the crew with us for the Honda Indy 200 at Mid-Ohio and the crew was great together. It made me think about how each part of a work crew contributes in their own unique way to hopefully secure a successful event.
The threat of rain seemed to be over us the entire weekend, I somewhat successfully willed the rain away until the end of the 200 miles on Sunday. If I can remember right, about 10 minutes after the winner's circle ceremony, the sky opened up and I am almost positive I saw a few cats and dogs falling out of the sky. There is a good and historic reason that some have nicknamed the Mid-Ohio track, "Mud-Ohio".
I always love being the DJ/Emcee at the Mid-Ohio track because of the people that work the track on a full-time basis. The local food vendors always have a smile and a thank you for me promoting them over the PA system and my track concession team is always so nice to me, bringing me coffee in the morning and anything I need.
I was at my usual spot on top of the hill between the food vendors and the merchandise vendors, I always like being event neighbors with people I like and I like the people from Mid-Ohio. The action on the track was excellent as it always is;
see the video below here for the recap of the actual race and how the winner won.
I was trying different types of music lists that I had previously compiled, a good DJ will have at least an outline of what he or she is going to play at each event. I was surprised that the country music list drew more sing-alongs than the classic rock list that I made for this track. I guess this is a good thing and gives me some job security from the AI craze. A live DJ/EMCEE can read the crowd, watch their room, and feel when the vibe is good for the people that are at the event. And if it is not working, a professional will always have a Plan B and C.
After the race Charles took the crew into Mansfield and we had a great dinner at a famous local restraint. It is always fun to bond with the work crew after all the hard work that is done to make one of these events happen for Craton Promotions.
Next Up for me will be the Honda Indy 200 Toronto
The official merchandise for Mid-Ohio can be found at www.shopMOstore.com