IMSA Race
Tony B's Experience
The Heat Was On At The Michelin GT Challenge at Virginia International Raceway
The "Feels Like Temperature" was high and the team could really feel it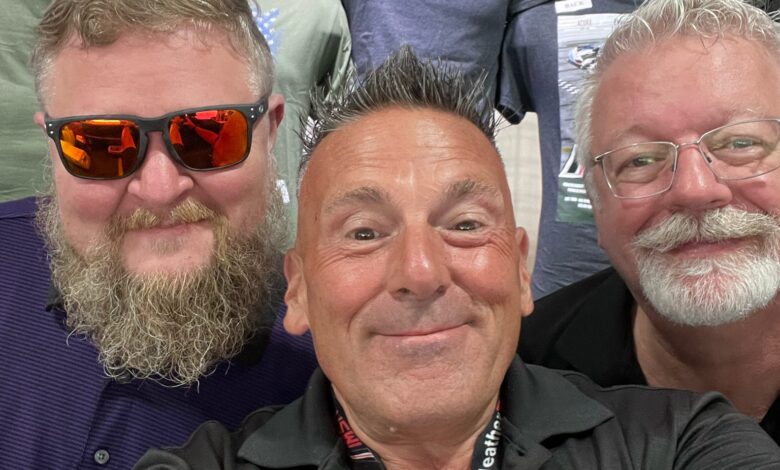 Alton, VA – Craton INC – This was my fourth year with Craton Promotions at the Michelin GT Challenge. As one of our IMSA series stops it has been so different each season. The good part of being in my senior year at Virginia International Raceway is that I have now made friends with a lot of the track employees and volunteers. So now when I go to VIR I am also excited to go and see friends as well.
Our Team IMSA store did well but I will have to add the fact that it was so hot that it was hard for the fans to want to walk around so much, yes it was that hot.
Dereck, Micah, and I still had a great time with the fans. Great IMSA merchandise, Fun music, and games out in front of the tent, and of course we had our Team IMSA corn hole challenge which was pretty intense during the weekend.  At one time on Saturday, a racing team cart drove by with a few crew workers on it. I on the mic, challenged them to stop and play the At The Events with Craton Promotions crew, and they did.  Two young strapping guys got off the cart and began to throw bags against Dereck and me.  We lost and had to give a set of IMSA cups to the guys for completely destroying us in the Team IMSA corn hole game. I am better at talking on the mic than I am at corn hole.
The roar of engines, the smell of burning rubber, and the excitement of high-speed competition were all on full display at the 2023 Michelin GT Challenge held at the iconic Virginia International Raceway (VIR). This annual motorsport extravaganza lived up to its reputation as one of the premier GT racing events in North America, drawing fans and participants from across the globe.
Nestled in the picturesque countryside of Alton, Virginia, VIR is a 3.27-mile, 17-turn road course known for its challenging layout and stunning natural surroundings. This historic track has a rich motorsport heritage dating back to its opening in 1957, making it a fitting host for high-performance racing.
The 2023 Michelin GT Challenge witnessed several iconic moments that will be etched in the memories of racing enthusiasts for years to come. Dramatic overtakes, daring maneuvers, and strategic pit stops all played a role in shaping the outcome of the races.
Beyond the racing action, the Michelin GT Challenge also provided an immersive experience for fans. Spectators had the opportunity to explore the paddock, meet their favorite drivers, and get up close to the impressive GT machinery. The vibrant atmosphere created a sense of community among racing aficionados. Our Team IMSA store was located in the paddock for this race. We shared our corner with the Mazda MX 5 Cup series participants. We had a lot of fun and got to know the Mazda people better due to us being paddock neighbors all weekend.
Michelin's Commitment to Excellence
As the title sponsor, Michelin once again demonstrated its commitment to excellence in motorsport. The company's high-performance tires played a pivotal role in enabling drivers to extract the maximum performance from their cars, ensuring both safety and thrilling competition.
The 2023 Michelin GT Challenge at Virginia International Raceway delivered a weekend of unforgettable racing excitement, cementing its status as a must-attend event for motorsport enthusiasts. With a combination of iconic cars, top-tier drivers, and the scenic backdrop of VIR, this event celebrated the timeless allure of GT racing. As the checkered flag fell and the engines roared one final time, fans departed with memories of an extraordinary weekend filled with thrills and spills.