IMSA Race
Tony B's Experience
"Speed, Strategy, and Spectacle: The 2023 IMSA SportsCar Challenge at Road America, Wisconsin"
As experienced by Tony B and the Team IMSA "At the Events" crew from Craton Promotions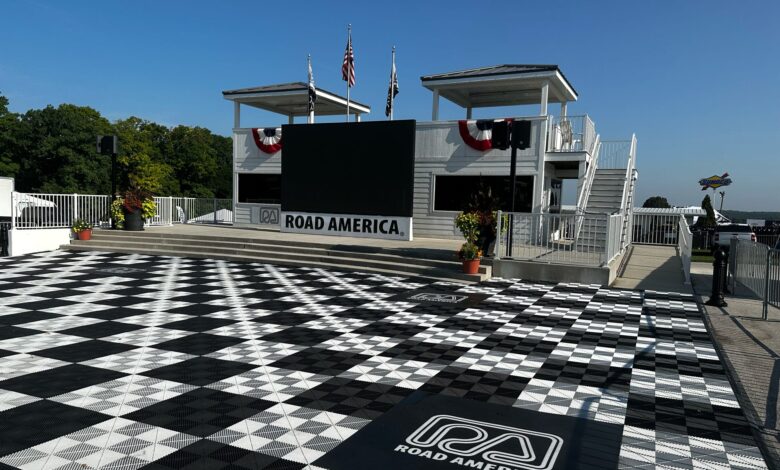 On Friday or Saturday night, a huge storm blew into town and seemed to attack the vendors at Road America. The wind and the rain were intense for what seemed like forever but was really less than half an hour. Several merchandise, souvenir shops, and motorsports artist displays were affected.  I want to personally give those people big hugs and kudos for fixing up, cleaning up, and resetting their stores as well as they did. The Team IMSA store was lucky to only receive minimal damage.
See our FULL line of Team IMSA Gear
During the day the asphalt at Road America in Wisconsin sizzled with adrenaline as the IMSA Sports Car Challenge descended upon this iconic track. As one of the most highly anticipated events in the world of sports car racing, the IMSA SportsCar Challenge at Road America offered fans and participants alike a thrilling weekend of high-speed action, fierce competition, and strategic racing.
It is essential to understand the significance of Road America. Nestled in the picturesque village of Elkhart Lake, this track has been a mecca for motorsport enthusiasts since its inception in 1955. Known for its four-mile, 14-turn layout, this track offers a unique blend of high-speed straights and challenging corners, making it the perfect venue for showcasing the prowess of sports cars.
The IMSA Sports Car Challenge is a premier sports car racing series that attracts top teams and drivers from around the globe. With a diverse field of cars, including prototypes and GT vehicles, the series is renowned for its action-packed races, where strategy and precision driving play pivotal roles.
One of the unique aspects of IMSA racing is the multi-class format. Fans witnessed a wide range of sports cars on the track, from nimble prototypes to muscular GT machines, all competing for victory simultaneously. This diversity adds an extra layer of excitement and unpredictability to the races.
In endurance racing, strategy is key. Teams must navigate tire changes, driver swaps, and fuel stops strategically to gain an edge over their competitors. The IMSA SportsCar Challenge showcases the tactical genius of team managers and pit crews.
The event attracted top-tier teams and drivers, with manufacturers like Porsche, Ferrari, Acura, and Cadillac vying for supremacy. The battles on the track were intense, with wheel-to-wheel racing and daring overtakes keeping fans on the edge of their seats.
Road America's natural beauty, with its lush greenery and rolling hills, served as a breathtaking backdrop for the racing action. Fans enjoyed the opportunity to witness high-speed drama in the midst of Wisconsin's serene landscape.
The IMSA Sports Car Challenge is known for its fan-friendly atmosphere. Spectators had the chance to meet drivers, explore the paddock, and immerse themselves in the world of sports car racing through interactive experiences.
Elkhart Lake Wisconsin is filled with so much history and lore and it is hard not to see or do something new every time you go there.  This year we made a stop at Gessert's Ice Cream to celebrate crew member Micah Pullen's birthday.  This popular local ice cream shop was filled with historic sights and sounds, and the ice cream was excellent as well. The place had the whole old summer resort-style vibe down to a beautiful work of art.
We also had a lot of fun challenging the fans to Team IMSA cornhole games. We won some, but we lost more. There were a ton of fans this year, and it felt like it. Most news outlets are reporting that is was a record-breaking crowd for an IMSA race weekend at Road America.
I have to give a million shoutouts to Bruce and Mary Jane from Buzz Hut Smoothies and Coffee. These two run the coffee shop set up at Road America and other race venues and they are the best.
Also a big thank you for the new hot sauce they let me take home and try. Forever Spicy Website
Beyond the racing, the IMSA SportsCar Challenge fosters a sense of community among fans and participants. The camaraderie among enthusiasts is palpable, creating a welcoming environment for newcomers and seasoned fans alike.
The IMSA SportsCar Challenge at Road America in Wisconsin lived up to its reputation as a spectacle of speed and strategy. With a rich history, a challenging track, and a diverse field of competitors, it showcased the essence of sports car racing at its finest. For fans of motorsport, this event offered a chance to witness world-class racing in a stunning natural setting, creating lasting memories and a deep appreciation for the artistry of high-speed competition. As the IMSA SportsCar Challenge continues to captivate the hearts of racing enthusiasts, it's clear that Road America remains a cherished venue for the sport's most thrilling moments.