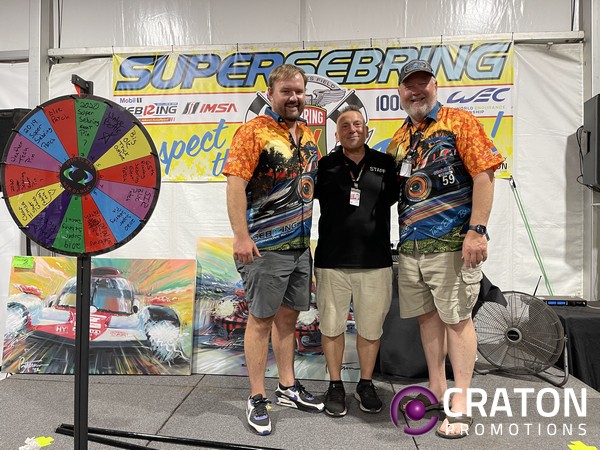 Sebring, FL – My name is Tony and  I have been with the Craton Promotions Team for about 2 ½ years now and the stage shows during the live racing events have been progressing on an event to event basis since I started working the events with Team Craton.
I can remember the first time I got to talk to the crowd at a motor sports race. It was at an IMSA event called the 24 hours of Daytona. This was back in January 2019 and I was able to sparingly use a megaphone that they had in the office. The older staff was irritated, but there was a little spark of extra excitement that grew that weekend.
Fast forward to the 2022 Super Sebring event that just happened in March, We had four daisy chained powered PA speakers, a wireless microphone and a huge stage inside the massive store.  We were running a couple of stores, selling all of the official branded merchandise for the IMSA WeatherTech Championship series, the Sebring International Raceway, the 12 Hours of Sebring,  and the 1000 Miles of Sebring.
But at the same time we had a few concerts, multiple 12 to 14 hour days of Deejay music playing, (My play list is almost perfection, but its getting better every event), a slightly risqué beauty contest, a spinning wheel of prizes, which people lined up for at the top of almost every hour we were there,  A Sebring trivia contest with the President of the track as the questioner, and the legend Bill Patterson painting live on stage to benefit the Austin Hatcher Foundation, who were also set up in our store.
To try to make this long story short, it was a spectacle to see every day. People came back to the store and the stage day after day after day, just to see what was going to happen next, or see if there was something they might have forgotten to buy themselves the first few times they passed through.
I may be getting ahead of myself but I truly believe it when I say to the other events we go to every season. Ask about the big tent, ask for the stage, get the full tilt "circus coming to town" experience. It sure seems like it's a lot of fun for everyone, and the crowds of fans are impressive to say the least.
Our next few events we are prepping for are the Acura Grand Prix of Long Beach, Hyundai Monterey Sports Car Championship, and the Mid-Ohio Sports Car Challenge. I hope to see you at one or all of them.