Hello Race Fans: My name is Tony B from  Team IMSA.com and IMSA Merchandise Tent run by Craton Inc. I just wanted to introduce myself and the company to you all.
My office at Craton Inc is based out of Atlanta Georgia and we will be traveling to all the races on the circuit this year. I was at a few of the races in 2020 but as you probably know there were not that many of them. I am hoping for a full schedule and even more fun at the tracks this year. I am both a newbie and rookie when it comes to sportscar racing so feel free to correct me when I am wrong, in error, or just full of IT. With that all being said let us recap my first trip to a race.
When I first started with TeamIMSA.com my first trip was the 2020 "Roar Before the 24" at Daytona International Speedway in Florida USA. I had no idea what I was getting into, and after a full year I still do not really know, LOL.  My first impression was simply that those cars were LOUD when you were close to them. Good Thing we sell ear plugs and earmuffs at the Official IMSA merchandise tent. After a action-packed weekend we packed up the trucks and trailers and drove back to Atlanta, knowing we were going to be coming right back for the Rolex 24 at Daytona.
We headed back to the Daytona International Raceway and this time we had multiple stores for Team IMSA merchandise and tons of new things for the fans to take home as souvenirs of this great 24-hour endurance race. Remember this was my first big race EVER and it was crazy loud, exciting, and packed with tons of happy fans (you guys)! I was very proud of the Craton Inc team and how we handled the entire race weekend. Driving back to Atlanta after that one was, whoa, let me just say I was exhausted.
Now let's fast forward to 2021 and the latest trip to Daytona Beach. This year we had the Roar Before The 24 and just a few days later we had the 24 Hours of Daytona.
We had the Team IMSA store in the fan zone and gave me the opportunity to meet thousands of fans as they made their way to the infield and fan zone events.
Also, this year we broke down the race classes with all the details you could want on shirts, yes on the back of shirts. Take a look here, DPI, LMP2, LMP3, GTLM, GTD,  and we even did a throwback from the 80's, it's called "The Greaties"
These shirts were great but the most important items we brought this year were the jackets and coats, because on some of those race days, it was COLD. I know what you are thinking already, its Florida how cold could it be? Well, if you have been to this race in January then you already know the answer.
My bosses must have done this a time or two before because we had a whole wall of new "cold" wear.
The jackets ran from heavy-duty, "The Sanders" and the "3 in 1" (there has to be a good joke in there when you say 3 in 1), to middle weight, (the Narvik which sold out except one MEDIUM), we even had a cool quilted IMSA Vest that we rolled out for 2021.
The lady race fans even got a new jacket for 2021, the Pursuit and that goes along with the two ladies jackets we had already, the Tulsa Red and the Grey Diamond Fleece.
I am now back in Atlanta at the Craton Inc office and we are currently getting ready for the next big race which is the 12 Hours of Sebring at Sebring International Raceway. I hope you get to go the race person, and if you do, come by the big white tent, and say hello. – Tony B
If you want to sign up for our Newsletter Click HERE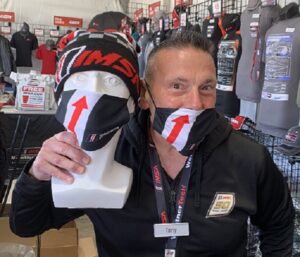 Me and Fred The Head in Daytona – Don't you want one of these stocking caps?