Tony B's Experience
2021 IMSA WeatherTech Michelin GT Challenge & Virginia is for Racing Lovers Grand Prix was a long title to say on the microphone in one breath.
A Sun And Rain Weekend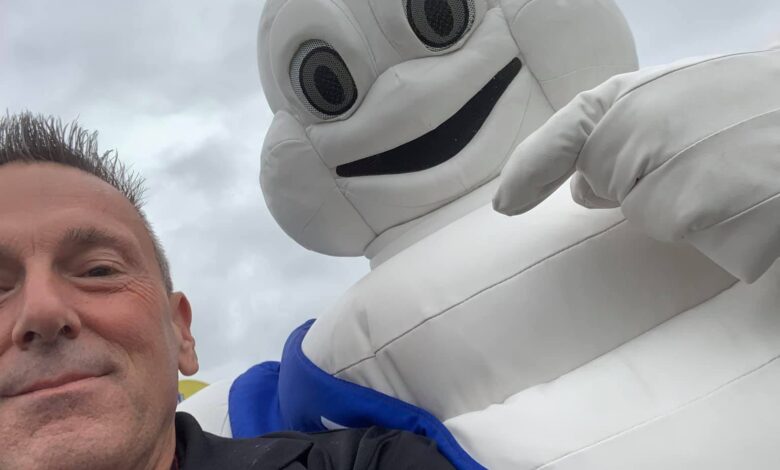 Virginia – Craton Promotions – October 2021 –  The races were exciting all three days at 2021 IMSA WeatherTech GT Challenge & Virginia is for Racing Lovers Grand Prix hosted at the Virginia International Raceway. VIR is located between Danville and New Boston Virginia but getting there took me through Indiana, Ohio, West Virginia, North Carolina, Virginia, North Carolina, and back into Virginia. Let's just say thank goodness for a decent GPS signal during my trip to VIR for the first time.
For this event our Team Craton crew consisted of Thomas, and Owen who drove up from the Craton Inc office and warehouse in Peachtree Corners Georgia and myself who drove from Northwestern Indiana. It stormed on all three of us at different times in different locations and as you may or may not already know, the IMSA race at VIR historically comes with at least one day of rain. History repeated in Virginia this year, as Friday night and Saturday morning came with a full blown rain storm. I must give kudos to the track maintenance crew as the race went off almost as scheduled.

View this post on Instagram
The Team IMSA tent store was located in Vendor Village with the Michelin Racing Tire team across from us, the Lexus Racing Experience crew at our right face corner and our friends from the Skip Barber Racing School as our right side neighbors. I had the tunes blasting all weekend and made friends with a bunch of new people while promotion Team IMSA and all of our neighbors.
I enjoyed getting a look at the track and all of the cool set ups in the paddock, IMSA is doing some very cool promotions for winning tickets to the opening of next season at the Rolex 24 Hours of Daytona. 2022 marks that races 60th anniversary of the 24, and our Team IMSA stores will be ready to celebrate the prestigious anniversary with some surprises I can't even tell you about yet.
If I had to pick a cool moment for the weekend it would be Phaff Motul winning, and all of their fans coming into the store and buying up most of their souvenirs. It was pretty fun to see their excitement about the win.
Our Craton crew went out to a cool pizza joint in Danville after the race, we all got specialty stromboli. Veggies for me of course.
Now we are all back home and preparing for the grand finale of the IMSA season and one of our biggest/favorite races. The Motul Petit Le Mans. I will be out in front of one of the Team IMSA stores on the Microphone. We will be giving away prizes for winning games and answering trivia. Its going to be an event you won't want to miss.