IMSA Race
Tony B's Experience
Motul de Laguna Seca 2023 Was A Weekend Of Firsts & Record Breaking Wins
Craton Promotions Has A Record Breaking Weekend At WeatherTech Raceway Laguna Seca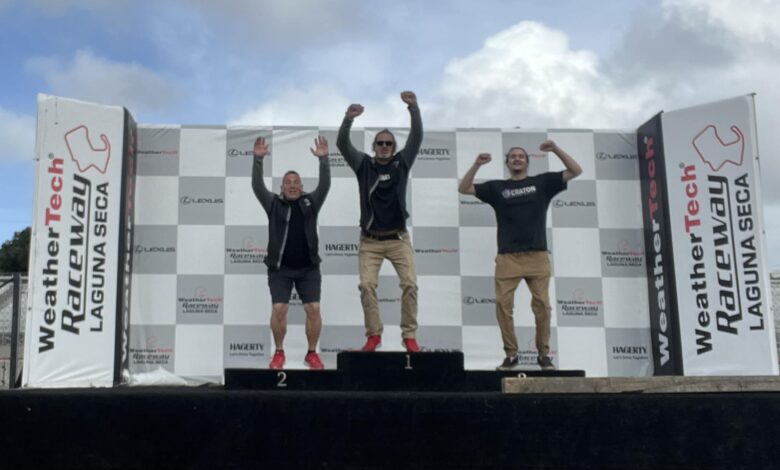 The Motul de Laguna Seca 2023 was a sports car race held at WeatherTech Raceway Laguna Seca near Monterey, California on May 14, 2023. It was the fourth round of the 2023 IMSA SportsCar Championship and the second round of the 2023 WeatherTech Sprint Cup.
The Craton Promotions team was right in the paddock with the Team IMSA merchandise store and judging by the record-breaking sales, that was the right place to be. "At the Events" had a somewhat subdued Tony Batman as the IMSA technical inspection area was right across from the Team IMSA store and NBC Sports was right next to the store as well, doing all of the things they do to make a great television broadcast. This did not stop the now-popular Tony B Sunday Morning Blues party at the Team IMSA store. Maybe it is the state of the world today, maybe people just love hearing the Blues on a Sunday morning before the green flag drops. Who Knows, and really who cares, let's just enjoy our time out at the track.
We have to mention a few things that happened in the Team IMSA store during the Motul de Laguna Seca 2023.
Several new items were extremely popular with the fans, and the race teams. The new Pipo Derani shirt was a huge hit, Pipo himself even came by and did a little Instagram promo real with Tony B. The new WTR Racing collectible pins were a huge hit as well, with 5 new styles including driver's helmets. And of course, the new Taylor Hagler shirts and hats are great and everyone loved the design and colors.
The race was won by Matt Campbell and Mathieu Jaminet in the No. 79 Porsche 911 RSR-19 of Proton Competition in the Grand Touring Prototype (GTP) class. They finished ahead of Pipo Derani and Felipe Nasr in the No. 31 Cadillac DPi-V.R of Whelen Engineering Racing and Colin Braun and Jon Bennett in the No. 54 Ligier JS P320 of CORE Autosport.
The race also featured the debut of the new Hyundai N TCR, which competed in the Touring Car Racing (TCR) class of the Michelin Pilot Challenge series. The Hyundai N TCR is a high-performance version of the Hyundai Elantra N, powered by a 2.0-liter turbocharged engine that produces 350 horsepower.
Thank You to all that came out to be with our crew of Owen, Jacob, and Tony. We had a great time getting to know you all and can not wait to see you at the next race or next season at the WeatherTech Raceway Laguna Seca.