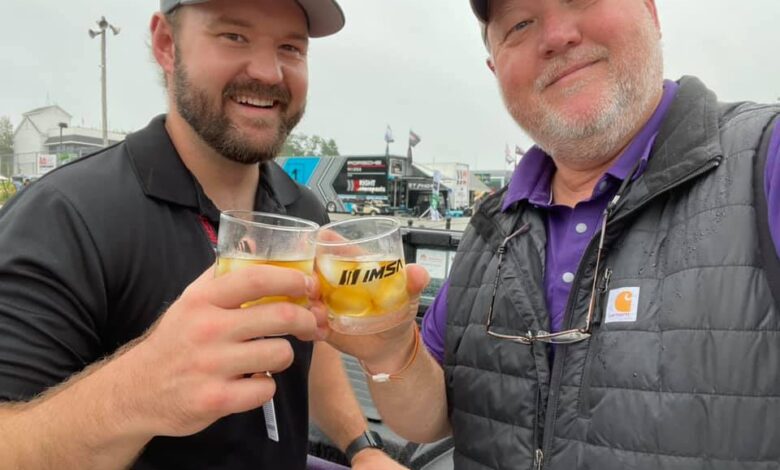 Elkhart, WI – (Tony's Blog) – As I looked up at the sky on Friday I noticed the ominous black clouds looming I asked a fan in the Team IMSA store if he thought it was really going to storm hard or if we might get away with just a little rain shower. The fan replied with confidence, "It's IMSA Racing weekend, of course its going to storm hard, it always does."
It stormed so hard on Friday that hail was hitting me as I ran around like a crazy man trying to secure the Team IMSA store tent. You are probably asking how we did? I am happy to tell you that the Craton Promotions team was like a symphony in motion making sure all the awesome IMSA gear we brought to the Road America raceway made it through the storm unharmed and in its original high quality state. Susan, Beka, Briggs all handled their emergency tasks with skill and brilliance so we lived to sell another day.
This was the first race for Beka and our new man of a million skills Owen and they did a great job. Owen also took care of the RV site and made meals for the team all week. I sure do appreciate him being there with us and welcome him to the team.
Saturday a long and great day in the Team IMSA store, I love how Wisconsinites and Midwesterner's in general come out in force to support sports car racing at their home track. Saturday was also the birthday of our founder and fearless leader Charles Craton. We all had a pretty good day even through the rainy afternoon, we had masses of fans through the store, we had a great time with everyone and the mood was just a little more upbeat than the norm.
I was able to do so many great games and promotions on the microphone this event, another shout out the Wisconsin fans for playing along and really getting into the flow of the fun at the Team IMSA store. At one point I had a contest where our second to newest guy Briggs had to do a number of push ups in front of the tent when a certain amount was spent in the store. It turned out to be 100 push ups and it just so happened that a group of guys from a race team were the ones to make that happen. Apparently a couple of them were retired US military and they were very strict with their critique of Briggs push ups. I tried to help out by doing some of them myself but then they just straight out heckled me. It was all part of the fun and we all had a good laugh afterwards.
Sunday was also a fun day and I did some trivia questions about the track, length of the raceway, number of turns, and things like that. This was extra rewarding for me this time because I noticed two young blond girls in the crowd with their dad and they seemed so excited to play the trivia game, they must have been 10 years old or so. When I asked the questions their dad would whisper the answers in their ear and they would run into the middle of the crowd that had formed and yell the answer. It was simple awesome for all involved. They both won IMSA lapel pins for their hats.
The people from Riley Motorsports had a special promotion going on all weekend for their entire crew. It was awesome to have the crew from Riley Motorsports in the tent so many times over the weekend. Craton Promotions handles all of the Official Riley Motorsports merchandise  and it was fun interacting with their team.
We had record sales even in the rain, we thank you Road America and IMSA fans for being there.
We had some great cheese, thank you to the Sargento cheese character for coming by the store a couple of times and entertaining our guests. I must insist that you look through all the photos in this story and revel in the cheese heads Charles and Owen are wearing.
We had some great coffee products, thank you to Buzz Through coffee for being great neighbors at Road America. It was fun promoting with you and having, just a little too much caffeine, every day.
We all made it back to home base safe, Thomas, Susan, Beka and Briggs to Atlanta. Charles and Owen to Rome, GA and myself back to Northwest Indiana.
Our upcoming events include the Lime Rock Historic weekend, Portland Grand Prix, Laguna Seca and Long Beach IMSA weekends and that's just next month.
Thank You for traveling with us, we are having a great year with you !!!
Tony Batman Pucillo
Craton INC