Press Release
Craton Named Official Event Merchandise Vendor of Progressive American Flat Track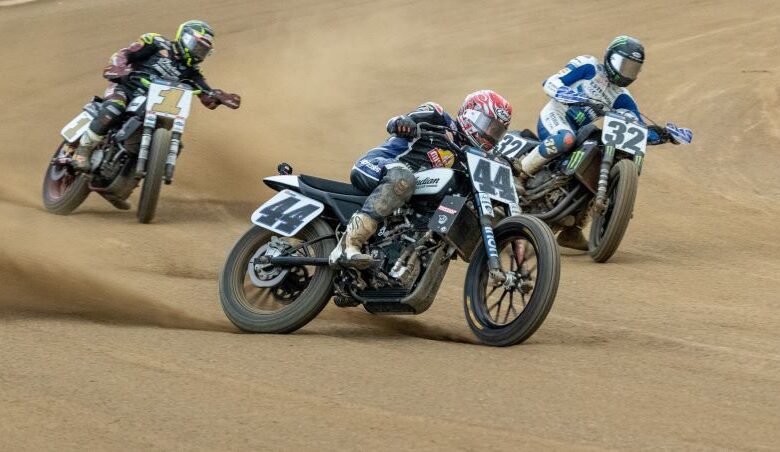 DAYTONA BEACH, Florida (February 3, 2023) — Craton, Inc. has been named the new Official Event Merchandise Vendor for Progressive American Flat Track (AFT), which is widely recognized as the most prestigious and competitive form of dirt track motorcycle racing in the world. Craton, a growing merchandise, apparel, promotion and events corporation based in the greater Atlanta area, will have on-site retail locations at each of the 16 event weekends on the 2023 Progressive AFT calendar.
"Everything we do ultimately comes down to providing the most exciting, entertaining and memorable product possible for our fans," said Gene Crouch, Chief Operating Officer of AMA Pro Racing. "Expanding and elevating our merchandise offerings certainly speaks to those aims, and no one is more capable of making that a reality than Craton. With decades of experience, Craton has really taken their game to another level since dedicating themselves to the motorsports world. We are looking forward to the new partnership."
Craton's partnership with Progressive AFT is a milestone addition to a solid group of other major motorsports events and governing organizations that have called on Craton for their merchandise needs. The Progressive AFT relationship stands out, however, as Craton's first partnership with a leading motorcycle racing series.
"When we first started discussions with the team at Progressive American Flat Track we were immediately struck by the similar growth rates both of our organizations have worked hard to achieve in recent years," said Geoff Lee, Craton, Inc. President. "We had been looking for the right partner to expand our four-wheel motorsports business into the two-wheel sector and today we are delighted to confirm we have joined with one of the best. Progressive AFT is ushering into the future the nearly 70-year-old tradition of Grand National Championship flat track motorcycle racing and we are honored to join them in support of the effort."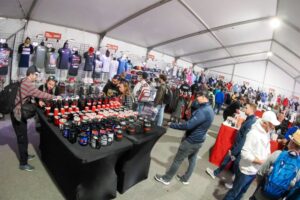 Specializing primarily on motorsports, additional partners for Craton include IMSA (International Motorsports Association), Michelin Raceway Road Atlanta, Sebring International Raceway, Lime Rock Park, the Acura Grand Prix of Long Beach and – through Green Savoree Racing Promotions – the Firestone Grand Prix of St. Petersburg, Honda Toronto Grand Prix, Honda Indy 200 at Mid-Ohio Sports Car Course and Grand Prix of Portland NTT IndyCar events.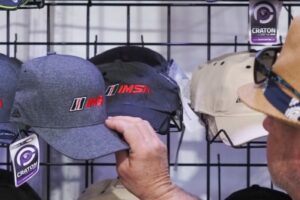 Progressive American Flat Track (AFT) is America's Original Extreme Sport as well as the guardian of the Grand National Championship series, formally established in 1954, but with roots reaching back to motorcycling's original speed demons of a century ago. At its core, professional flat track racing is a hyper-competitive, adrenaline-fueled American motorcycle sport featuring custom-built and production-based motorcycles reaching top speeds of 140 mph on the straights and 90 mph in the corners, all piloted by world-class athletes. Much has changed over 100 years, but the sport remains perhaps motorsport's purest test of man and machine.
The 2023 Progressive American Flat Track schedule features venues historic and new, bookending 18 rounds on 16 event weekends with the season-opening doubleheader at Daytona International Speedway during Daytona Bike Week in early March and an epic Labor Day Weekend doubleheader season finale at the series' crown jewel, the Springfield Mile, in early September. The calendar features five Miles, five Half-Miles, four Short Tracks and four TTs.
The new partnership will also see the launch of a new eCommerce online store from Craton in the near future dedicated exclusively to Progressive AFT.
ABOUT CRATON, INC.: A long-standing and high-volume merchandise and apparel company, Craton, Inc. has served major firms for 35 years. Since refining its focus in 2015 strictly to motorsports-associated clients and audiences, Craton has raised the bar for its partners in revenue, reach and customer satisfaction. Serving major racing series, track facilities and event promoters, Craton is the official merchandising partner for the Acura Grand Prix of Long Beach, IMSA (International Motorsports Association), Michelin Raceway Road Atlanta, Sebring International Raceway, Mid-Ohio Sports Car Course, Green Savoree Racing Promotions, Lime Rock Park and many others. Learn more at www.shopcraton.com and visit Craton (#cratoninc) on its social channels at Facebook at www.facebook.com/attheevents and Instagram @cratoninc.
ABOUT PROGRESSIVE AMERICAN FLAT TRACK: Progressive American Flat Track is the world's premier dirt track motorcycle racing series and one of the longest-running championships in the history of motorsports. Sanctioned by AMA Pro Racing in Daytona Beach, Fla., the series is highly regarded as the most competitive form of dirt track motorcycle racing on the globe. For more information on Progressive American Flat Track, please visit us on the web, like us on Facebook, follow us on Twitter, check us out on Instagram, and catch all the Progressive American Flat Track racing action on FOX Sports and FansChoice.tv.