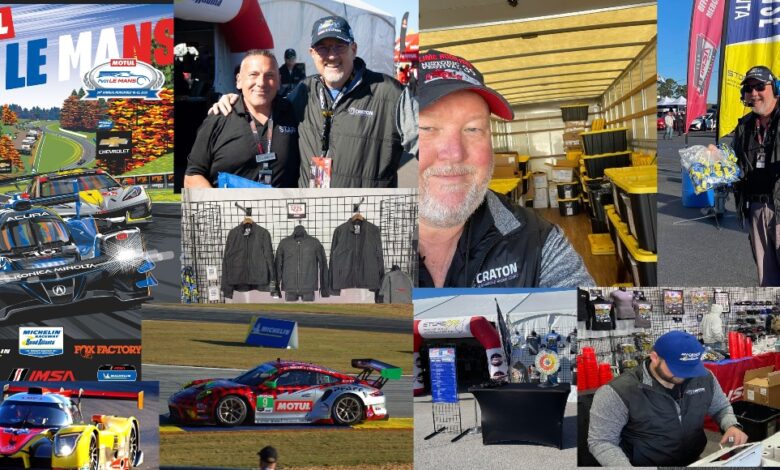 Braselton, GA – 2021 –   The endurance racing "triple crown" is said to be made up of the 24 Hours of Daytona, the 12 Hours of Sebring, and the 24 Hours of  Le Mans. The Petit Lemans is held at Michelin Raceway Road Atlanta, uses the rules established for the 24 hours of Le Mans by the Automobile Club l'Ouest, and is the closest I have been to the triple crown of endurance racing. (so far)
This was the first time I had worked a fully attended Petit Le Mans. I signed on with Charles Craton and Craton Promotions in November of 2019 which is after the race. The 2020 Petit attendance was limited due to covid restrictions, but the 2021 Motul Petit Le Mans was wide open and packed with enthusiastic, happy fans.
For this event I was set up out in front of the Team IMSA/Store 254 Merchandise Tent inside of the famed "Fan Zone" of the Michelin Raceway Road Atlanta. Craton Promotions also had two other locations, one on "Spectator Hill" and the other in the Paddock. We had people everywhere, it was all hands on deck, it was huge.
I spent the majority of my time there in front of the Fan Zone store with the "Wheel of Prizes", the best music play list, and my microphone. You can also add in thousands of fans everyday.
In almost everyone of our stores we were able to sell out, replenish, and sell out of Motul Petit Le Mans gear. I am not sure how it all looked on television but it was pretty wild how busy it was live at the track.
We were able to compile a pretty long list of potential winners over the weekend. Our Spin to Win game was a big hit out in front of the Team IMSA/Store 254 Merchandise tent. We gave a way an official IMSA Embossed Leather Jacket to our lucky winner. Christ Hunt from Jackson, Georgia.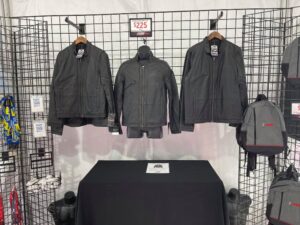 We were also able to give away tons of smaller prizes during the contest. I have to thank Miss Tabitha for her help with the Wheel of Prizes, fun was had by all.
At One point on Saturday we made the promo table into an autograph signing area for John Gossett who designed the official poster for the event, he is also our lead artist in the Craton Inc art department. I had a lot of fun talking on the mic and interacting with the fans during that time as well.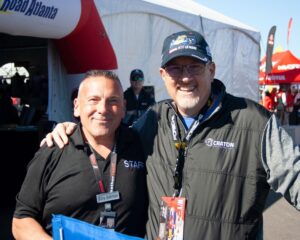 Great Times, Great Fans, Great Race, and Great Coworkers made the 2021 Motul Petit Le Mans a special one for me. I already can't wait for next season to start.